Bridge expansion joints are structural components designed to provide smooth passage over the gap between adjacent sides of a deck joint, while also permitting relative translation and/or rotation of the two sides of a bridge deck (deck movement joint).
A deck movement joint is generally defined as a structural discontinuity between two elements, at least one of which is a deck element, and is designed to allow relative translations and rotations due to: thermal expansion and contraction of the superstructure, concrete shrinkage or creep, elastic shortening due to pre-stressing, displacement of the structure under load, or any other action the desk is subjected to.
Because expansion joints are installed at a late stage in construction, some of these movements will have at least partly already taken place. Consequently, expansion joints have to facilitate a smaller degree of overall movement than a bearing at the same location.
Our deck joints are constructed and designed to prevent damage to the deck, bearings, piers, and abutment by water borne chemicals and other foreign materials, either by preventing water leakage through the joint or by allowing water to drain through the joint in such a way that avoids damaging the deck, bearings, piers, and abutment.
Expansion joints are manufactured as per IRC:SP:69:2011 specifications under the Ministry of Road Transport Highways (MoRTH) and are also approved by Research, Design and Standards Organization(RDSO) for railway bridges.
Our technical expertise and decades of experience in manufacturing these joints along with our world class infrastructure and testing facilities have ensured superior performance of our products, making us the preferred supplier amongst all leading infrastructure companies in the country.
Types of Bridge Expansion Joints
SINGLE STRIP SEAL
Consists of two edge beams with anchorages and an elastomeric sealing element held firmly in the housing of the edge beam that guarantees water tightness of the joint.

Edge beams protect the adjacent bridge deck concrete from damage due to vehicular impact and also transfer the vehicular load to the deck structure through robust anchorage system.

Working movement range up to 80 mm. (+/- 40 mm)

This joint is recommended for moderate to large simply supported cantilever / continuous construction have right, skew or curved deck with maximum horizontal movement up to 70 mm.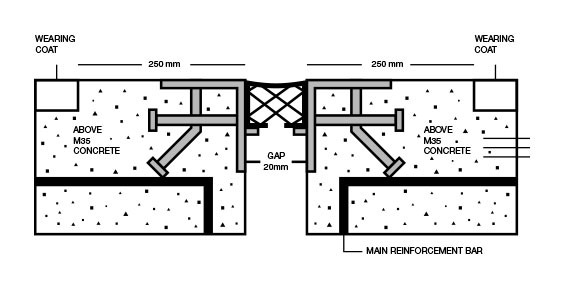 COMPRESSION SEAL
Consists of steel armoured nosing at two edges of the joint gap suitably anchored to the deck concrete and a performed chloroprene elastomer compressed and fixed into the joint gap with special adhesive binder.

Caters to a horizontal movement up to 40 mm and vertical movement of 3 mm.

Recommended for simply supported or continuous spans right or skew (up to 30 degree) moderately curved with maximum horizontal movement not exceeding 40 mm.
OMEGA SEAL (CAP SEAL)
Primarily used in railway bridges.

Consists of hot dipped galvanized steel plate with omega shaped elastomer cover.

Working movement range up to 80 mm. (+/- 40 mm)
SLAB SEAL
Consists of steel insert and elastomeric slab unit.

Recommended for simply supported or continuous spans, right or skew ( < 20 degrees), moderately curved with maximum movement up to 50 mm.